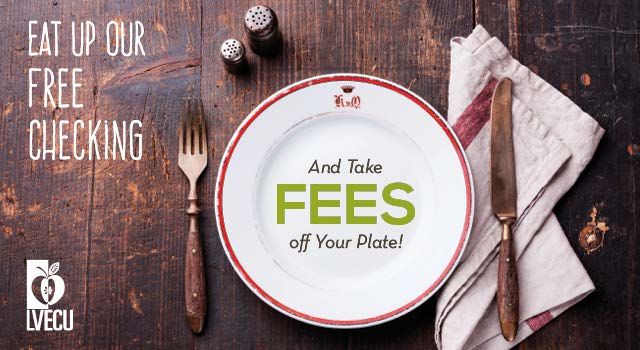 Why fork over your hard-earned money to pay for services LVECU offers for FREE? Whether you're hungry for the convenience of online banking or the carefree feeling of no-cost checking, we're ready to satisfy your cravings.
Feast your eyes on all the benefits you'll be served:
First 50 Checks Free*
Free Visa Debit Card
55,000 Nationwide Surcharge-Free ATMS**
Free Online Banking
Free Overdraft from Savings***
Free Mobile Banking
Free Remote Deposit Capture
No Minimum Balance & No Monthly Service Fees
P2P (Person to Person) Payment Options
Let LVECU serve all your financial needs without cutting into your savings! Visit a branch or call for details today.
*Basic CU Style only.
**Look for the Allpoint logo or use our ATM locator. The ATM may display a surcharge fee screen. Accept the surcharge and proceed with your withdrawal. You will not be charged the surcharge fee. Limit of 10 free transactions at an ATM per month, $1 each transaction over 10. Point-of-sale transactions (non-ATM transactions) do not count as part of your 10.
***Regulation D limitations apply (see below). Must have adequate funds in your overdraft savings account to cover overdraft. Talk to a credit union representative for details and restrictions.

Dividend Period:
For this account type, the dividend period is monthly, for example, the beginning date of the first dividend period of the calendar year is January 1, and the ending date of such dividend period is January 31. All other dividend periods follow this same pattern of dates. The dividend declaration date follows the ending date of a dividend period, and for the example above is February 1. If you close your share account before dividends are paid, you will not receive the accrued dividends.

Rate Information:
The dividend rate and annual percentage yield may change every dividend period. We may change the dividend rate for your account as determined by the credit union board of directors.
Click here
for our current rates.

Compounding and Crediting:
Dividends will be credited to your account every month.

Average Daily Balance Computation Method:
Dividends are calculated by the average daily balance method which applies a periodic rate to the average daily balance in the account for the period. The average daily balance is calculated by adding the balance in the account for each day of the period and dividing that figure by the number of days in the period. The period we use is the monthly cycle.
Transaction Limitations:
No transaction limitations apply to this account unless otherwise stated in the Common Features section.


Click here to learn more about VISA Debit/ATM Cards
Click here to learn more about a line of credit
---
FAQ
Do I have to open a checking account when I join LVECU?
No. However, our checking account is free and there are many benefits, such as a Free VISA® Debit Card, Free e-Tran Online Banking, Free Bill Pay and more.
Is there a minimum balance requirement?
No, there is no minimum balance required on a checking account.
How old do I have to be to open up a checking account?
You need to be 18 years or older to open a checking account. However, you can open one at 16 years old if you have joint owner on the account that is at least 18 years old. Debit cards will have different stipulations for members under 18.
What is Regulation D?
The Federal Reserve System's Regulation D (Reg. D) limits the number of transfers and withdrawals which can be made from a share savings account each month.
Affected Accounts: S1 (Savings), S2 (Holiday), S3 (Vacation), S6 (Alternate), S7 (Statement), S8 (Super Saver), S9 (Money Market).
Each member account is allowed a total of 6 limited transactions per month, from those affected accounts.
Limited Transactions:
Employee-assisted telephone transfers
e-Tran® transfers
Automated telephone transfers (ART)
Pre-authorized payments to third-party merchants
Overdraft from savings (excludes line of credit)
VISA® Debit Card purchases from savings
Drafts/checks from money market shares
Unlimited Transactions:
Deposits, withdrawals, transfers done in person
ATM deposits, withdrawals, transfers (see VISA Debit Cards FAQs for other limitations)
VISA® Debit Card purchases from share draft
Transfer to an LVECU loan or credit card
Transfer and withdrawals by mail or messenger
Why is there a difference between my balance and available balance?
There may be checks on hold that have been deposited, or Point-of-Sale transactions may be on hold until the actual transaction is processed.
How do I get a copy of a share draft or teller check?
If you have e-Tran online banking, you may print a copy of your cleared share draft check for free. For teller checks, or if you don't have e-Tran you may stop by any branch or contact the call center. There is a $2.00 fee per check copy.
How many checks may I write each month without a fee?
There is no limit to the number of checks you can write and there is no fee per check written.
How do I reorder checks?
You can visit either
branch
or contact the
call center
to order checks. You can also reorder checks through e-Tran® by logging into your account, clicking on the "Maintenance" tab and selecting "Check Reorder." The cost will be automatically deducted from that checking account.
When can I expect my checks after I order them?
Your checks will be mailed to you in 7-10 business days after we receive your order. You may rush order your checks for an additional fee.