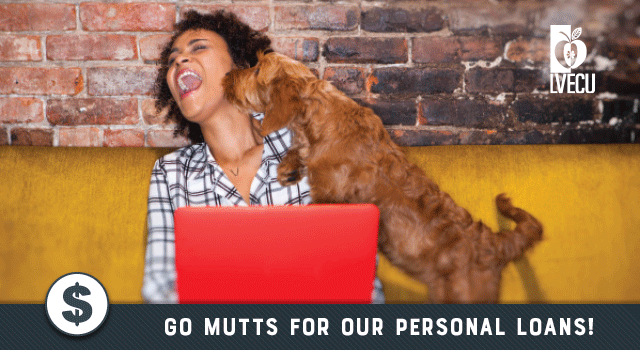 We've got a pawsome idea to help you boost your budget: a Personal Loan from LVECU. You can use the cash for whatever you need - education expenses, debt consolidation or even a well-deserved vacation.
With rates as low as 7.75% apr* for 36 months, our Personal Loan could be a more efficient and convenient way to manage your money than other loan options.
An LVECU Personal Loan includes:
Instant approval on most loans
Terms up to 84 months
Easy payment options
We also offer Personal Lines of Credit for a more flexible way to receive instant and on-going access to cash.
*apr = annual percentage rate. Rates based on an evaluation of your credit and your actual rate may vary. Rates subject to change without notice and not all applicants will qualify. Other rates and terms available. Payment example: You pay $31.22 per month for evey $1,000 financed. See below for more details and information.
Unsecured Personal Loans
*Up to $55,000.00
Personal Loans provided by Lehigh Valley Educators Credit Union are great when you need a loan for debt consolidation, catching up on some bills, taking a get-away vacation or buying season tickets to your favorite sports event. Personal Loans offer a low interest rate with convenient repayment terms.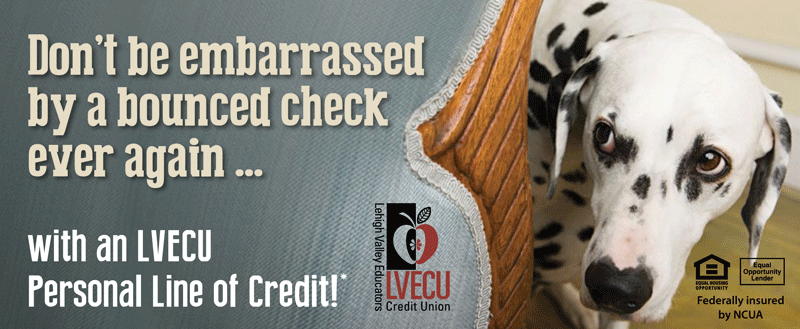 Personal Line of Credit
*Up to $10,000.00

When you take advantage of a Lehigh Valley Educators Credit Union Personal Line of Credit, you can borrow the money you want anytime you need it, without the hassle of making a special trip to the credit union. With our unsecured Personal Line of Credit you can establish a credit limit from $500 to $10,000. You only need to apply once; it's quick, flexible, and easy!

To set up your Personal Line of Credit, you will need a credit union Share Draft/Checking Account. Our full-featured checking account has no monthly service fee or per check charges. And with your new Personal Line of Credit, you'll enjoy "automatic" overdraft protection. Add our ATM/Visa® Check Card for a convenient combination! You can also access your line of credit using "ART", the credit union Audio Response Teller, and E-Tran.
Applying for a loan:
Rate & Term Information:

Our Personal Line of Credit has a variable rate. The rate is based upon the prime rate as published in the Money Rates section of the Wall Street Journal on the 15th business day of each month, plus 7.00% (margin).

Your Minimum Monthly Payment will be based on your outstanding account balance after your most recent advance and will be determined according to the following table, subject to the lesser of the minimum payment shown or your account balance.

Outstanding Account Balance and Minimum Payment Amount

$50.00 - $1,250.00 equal to minimum payment of $ 25.00
$1,251.00 - $2,500.00 equal to minimum payment of $ 50.00
$2,501.00 - $3,750.00 equal to minimum payment of $ 75.00
$3,751.00 - $5,000.00 equal to minimum payment of $ 100.00
$5,001.00 - $6,500.00 equal to minimum payment of $ 130.00
$6,501.00 - $8,000.00 equal to minimum payment of $ 160.00
$8,001.00 - $10,000.00 equal to minimum payment of $ 200.00

All Personal Line of Credit Payments are due on the 25th of each month.
*Not all applicanats will qualify, talk to a Member Service Representative for details.