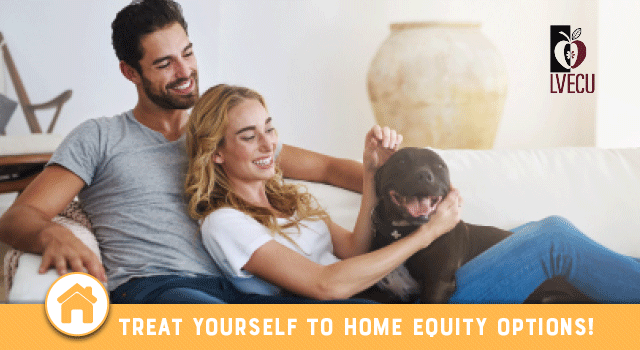 With rates as low as 3.39% apr* for 36 months, LVECU's Fixed Home Equity Loan or Home Equity Line of Credit lets you cash in on your home's equity and use the money for whatever you need - home improvements, debt consolidation, health expenses, vacation & more.
We offer a wide range of options to suit your needs, including:
Fixed-rate loan or variable line of credit
Terms up to 240 months
Competitive rates
No maximum borrowing amount
...and more!

*apr = annual percentage rate. Rates based on an evaluation of your credit and your actual rate may vary. Rates subject to change without notice and not all applicants will qualify. Other rates and terms available. Payment example: You pay $29.26 per month for every $1,000 financed. Appointment required for application and disbursement. See other details and restrictions below.
Call 610-820-0145 to schedule an appointment for a Home Equity Loan.

Home Equity Loans
Would you like to finally put that addition on your home, replace your old drafty windows, consolidate debt or take a well-deserved vacation? Then spring into action with a Home Equity Loan from LVECU. There are many rates and terms available to fit your needs. Whether you're looking for a fixed Home Equity Loan or a Home Equity Line of Credit for ongoing projects, we're here to help.

Fees & Charges: There is a $50 government recording fee due at the time of application. An appraisal will be required at time of application at borrower's expense. We will give you an itemization of the fees you will be required to pay at the time of application.
Property Insurance: You must carry insurance on the property that secures your home equity loan.

Tax Deductible: You should consult a tax advisor regarding the deductibility of interest and charges for the loan.

Loan Limits: The minimum to borrow is $5,000 and there is no maximum. The amount you borrow depends on the equity in your home. The credit union may lend up to 85% of the value of your home, minus any existing liens. An appraisal will be required for all home equity loans. Terms are available for up to 20 years. If you apply for a home equity loan, we will need proof of your income, debts and home owners insurance. Loans are limited to 1 to 4 family, owner occupied, residential properties.

Loans are limited to real estate located in the following counties:
Berks, Bucks, Carbon, Lehigh, Montgomery, Northampton, and Schuylkill.
Home Equity Loan Applications now require an appointment. Please call for details.
The following employees are registered on the National Mortgage Licensing System (NMLS) as Mortgage Loan Originators (MLO):
| | |
| --- | --- |
| Name | NMLS# |
| Kimberly Boyer | 1058247 |
| Crystal Carr | 803444 |
| Jessica Giacobbe | 803695 |
| Melissa Hixson-Cooper | 998614 |
| Rosemarie Krantz | 802303 |
| Teri Miller | 803677 |
| Marie Rhoda | 808507 |
| Jo-Ann Vegas | 1058250 |
| Marjorie Williams | 810118 |
| Robin Brobst | 1690553 |